Sarah Clay & the StarCats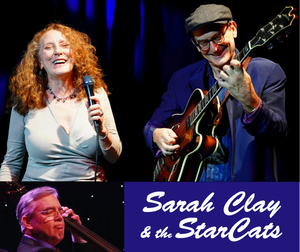 What a joy to work with these guys! Draa Hobbs on guitar and Steve Bulmer on bass. When the StarCats play, it's more than just a jazz gig, it's a Themed Concert, with custom arrangements, exquisite tone, and a thoughtful playlist. 
"I just have to say again how much I enjoyed your concert last night. I wish I had your jazz chops -- so refined. And I loved the variety of selections. Your band members are also fantastic, lucky you!" 
– Lola Reid, enthusiastic audience member
Click here or on picture to view video below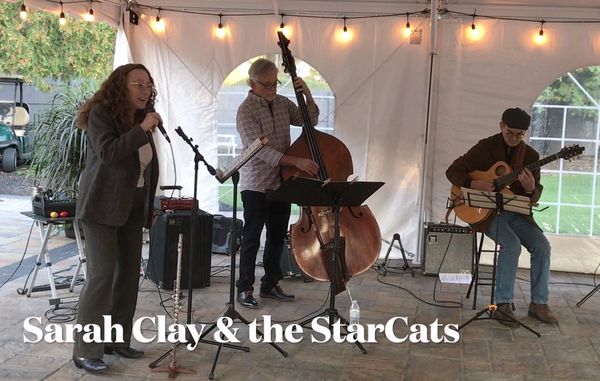 The StarCats and I make each Themed Concert experience both informative and entertaining. Between songs, I might tell the audience about an aspect of the composer's life, popular culture or history of the time, or relate something funny. Have fun while you learn new stuff!
"Huge stage presence. The crowd loved it. Two weeks later I am still hearing people comment about Sarah's presentation."  – Desi Smelcer, South Hadley Public Library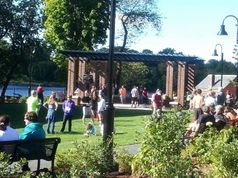 A Themed Concert explores a concept or evokes a mood, giving continuity to the program. We select and research songs to fit the theme, using a wide variety of sources.
"The music was gorgeous, and the stories were fascinating! Really made the songs come alive!" - Mike Jones, a happy audience member 
Who hosts Themed Concerts?
Themed Concerts work well in libraries, senior centers, historical sites, museums and house concerts. If your audience likes to learn a bit while being entertained, this will be a great fit. 
Grant Funding

In Massachusetts, Themed Concerts can be funded by a Local Cultural Council grant. I'd be happy to work with you to apply for funding from your town. Annual application are due in mid-October.
"Working with Sarah Clay is pleasure! Her good organization, quick yet thoughtful communication, and excellent preparation makes program planning a snap." - Matthew Jaquith, Librarian Springfield City Library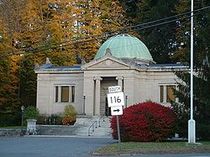 Let's bring a Sarah Clay & the StarCats to your audience. Contact Sarah today!